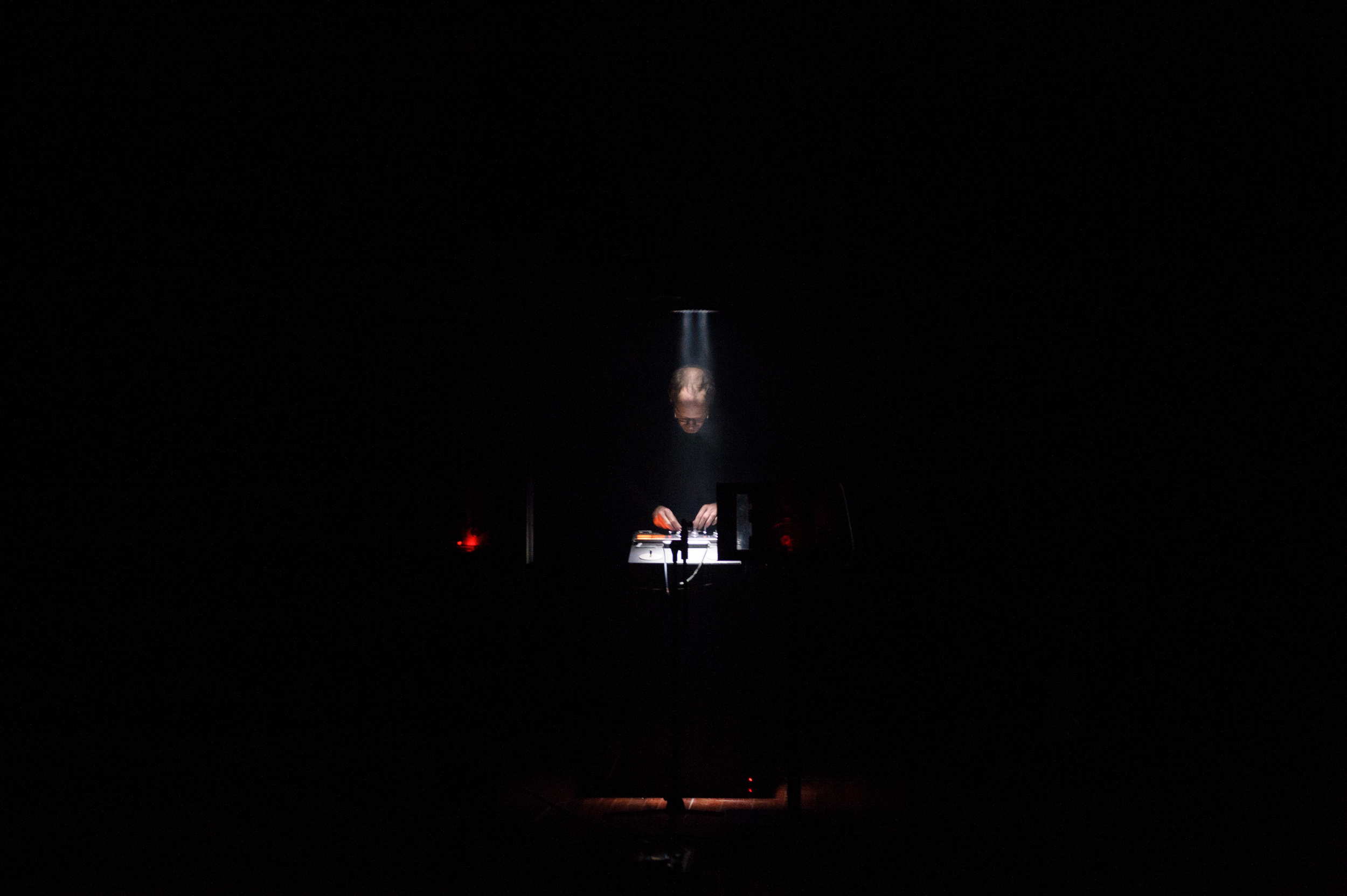 Peter Knight - composer, trumpeter, sound artist, artistic director
Australian trumpeter/composer/sound artist, Peter Knight, is a multidisciplinary musician who has gained wide acclaim for his distinctive approach, which integrates jazz, experimental, and world music traditions. Peter's work as both performer and composer is regularly featured in a range of ensemble settings, he also composes for theatre, creates sound installations, and is the Artistic Director of one of Australia's leading contemporary music ensembles, the Australian Art Orchestra (AAO).
Perpetually curious, Peter's practice defies categorisation; indeed he works in the spaces between categories, between genres, and between cultures: "Hard to categorise… hauntingly memorable" The Wire (UK). "Falling into an utterly genre-less wormhole" Cyclic Defrost. "Honest, inventive and original" Hour Magazine Montreal. "A serious work of stringent originality" BBC Jazz on 3. "If trumpet is an element then Knight is an alchemist" New York City Jazz Record.
Peter's role with the Australian Art Orchestra sees him touring regularly with the group both in Australia and abroad. He also commissions new work for the ensemble and curates a range of innovative programs for large and small settings. Outside of the AAO Peter performs regularly as a solo artist developing a distinctive modality for trumpet and electronics under the moniker, Allotrope. Other current projects include: Daughter's Fever, featuring Melbourne alt folk luminary, Paddy Mann (AKA Grand Salvo); his celebrated cross-cultural sextet, Way Out West, with koto virtuoso Satsuki Odamura, and his multi-award winning long-running collaboration with theatre-maker, Tamara Saulwick (Endings, Pin Drop).
Peter has presented these and other projects at numerous venues and festivals with recent highlights including: Metropolis New Music Festival, OzAsia festivals, Montreal Jazz Festival, Earshot Festival Seattle, Copenhagen Jazzhouse, Vancouver Jazz Festival, Aarhus Festival (Denmark), Café Oto (London), Melbourne Festival, Perth Festival, Sydney Festival, MONA FOMA (Hobart), Dotolim (Seoul), Super Deluxe (Tokyo), Urban Guild (Kyoto), Earzoom (Ljubljana), Sonorous Duration Festival (Singapore), Veneto Jazz Festival (Italy), Teatro Municipal de Las Condes (Chile), iBeam (New York), Labor Sonor (Berlin), Cosmopolite (Oslo) and Totally Huge New Music Festival (Perth). Peter is also a member of Paul Grabowsky's Moons of Jupiter sextet, and performs regularly with a range of other artists and groups including recently: Dave Douglas (Fabliaux), Ensemble Offspring, and Clocked Out.
As a composer Peter's recent commissions include, Australian Art Orchestra for Metropolis New Music Festival 2016, Arts House Melbourne (for Festival Of Live Art 2016) with Tamara Saulwick: an audio visual work for 16 iPads called Alter. Cameron Robbins for his MONA solo show 'Field Lines' (on until August 2016), Vanessa Tomlinson for 8 Hits (percussion solo), the Australian Brass Quintet (Extended Brass Quintet), ABC Radio National (radio version of Pin Drop for Sound. Music. Word), Big West Festival 2015, Siren Call, Corpus (2015 score for Tina Havers dance company Bremen Germany), Kate Neal (wind and string quintet), International Trumpet Guild (extended trumpet quartet).
Peter is the recipient of numerous awards including in 2016 the Albert H. Maggs Composition Award, the Age/Music Victoria award for Jazz Album of the Year, and a Green Room Theatre Award (with Tamara Saulwick). In 2013 he was awarded a prestigious Australia Council Music Fellowship. He is the recipient of two Bell Jazz Awards, along with nominations for the Australian Music Prize (AMP, for Daughter's Fever), APRA/AMC Art Music Awards, Green Room Theatre (sound design), Australian Arts In Asia Awards, and AIR Independent Recording. He holds a doctorate from Queensland Conservatorium Griffith University and was awarded 2013 Alumnus of the Year. Residencies include, Banff Centre Fall Residency (2007) with the assistance of a Rolston Music Fellowship (Canada) and 2014 Music Omi (New York). Peter's work has also been supported by grants from the Ian Potter Trust, Australia Council for the Arts, Arts Victoria, Alan C. Rose Trust, Australia Korea Foundation, Australian International Cultural Council, and The Myer Foundation. In 2005 he was awarded the Keith and Elizabeth Murdoch Travelling Fellowship.
Download bio here
schedule
18th - 24th August
Australia Council for the Arts Arts Leaders Program - residency in Jakarta and Yogjakarta, Indonesia
25th August - 1st September
SoundOut residency, Poland
11th - 21st September
Australian Art Orchestra Creative Music Intensive Tarraleah, Tasmania
21st September
22nd September
Arts Centre Melbourne with Australian Art Orchestra Meeting Points Concert Series 'Leaf and Shadow' at Arts Centre Melbourne featuring Hyelim Kim (UK/Korea) TICKETS
22nd October
Chengdu, China, with Australian Art Orchestra 'Water Pushes Sand' performance details via Ping Pong Arts
23-24 October
Shanghai Performing Arts Festival with Australian Art Orchestra 'Water Pushes Sand' Ping Pong Arts
26 october
Xi'an, Shaan Xi Grand Theatre with Australian Art Orchestra 'Water Pushes Sand' Ping Pong Arts
31 October
JazzFest Berlin with Australian Art Orchestra and Anthony Braxton's TriCentric Foundation presenting 'Sonic Genome'
1st November
JazzFest Berlin with Australian Art Orchestra and Julia Reidy presenting new work by Julia Reidy and works by Peter Knight
2nd November
London, The Vortex, with Australian Art Orchestra trio with Hyelim Kim and Simon Barker, Meeting Points.
2020
23-28 February
Banff Centre for the Arts, Canada. Residency with Australian Art Orchestra and Nicole Lizée
30 February
Toronto, Soundstreams with Australian Art Orchestra and Nicole Lizée. World premiere of AAO commission 'Karappo Okesutura Vol 3'